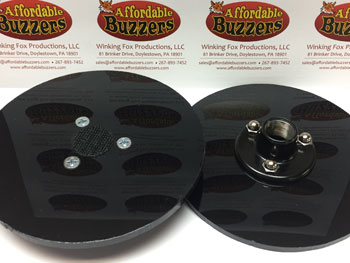 Big Daddy Buzzer Podium is the perfect freestanding platform for your Big Daddy buzzers. Our unbreakable Lexan polymer top has a threaded flange that attaches to any standard microphone stand. Your Big Daddy buzzers (not included with the podium) are held securely in place with a supplied, self-adhesive Velcro disc. When your buzzers are used on an ordinary table they remain fully seated on their rubber feet with no interference from the thin Velcro disc. To secure then to the podium, just press them down onto the top and the Velco discs will keep them securely in place through the roughest treatment by excited contestants.
The photo shows both top and bottom of the product so you can see the securely mounted flange for attachment to your microphone stand. The price shown is for ONE podium top.
Big Daddy buzzer not included.

USB Wireless Receiver is for use with our wireless buzzers. One receiver is supplied with your initial order of two or more wireless buzzers, but additional receivers may be purchased for backup or as replacements.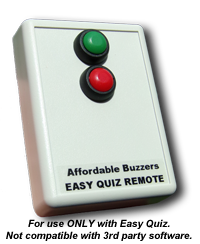 Wireless Host Remote permits operation of our free Easy Quiz software from up to 30' away. With just 2 buttons, you can activate the buzzers for your next question, respond to player answers with the right/wrong screens, and advance to the next question, all without ever touching your computer keyboard.
For use with our free Easy Quiz only. Not compatible with 3rd party quiz game software.
BIG DADDY tabletop buzzers (with wires) can be added to any existing Affordable Buzzers system - just plug them in to the interface box which connects to your computer. Please note that these buzzers require our interface box for connection to your computer. Specify 10' or 25' wires by using the pull-down selector. (Big Daddy buzzers are also available in a wireless model.)
PowerGrip Wired Buzzer
$10.95
POWER GRIP Handheld buzzers (with wires) feature a no-slip design that feels great in your hand and strangely empowering! Easy operation with either your thumb or trigger finger. Molded from ABS plastic, our Power Grip buzzers are made to last. An RCA phono jack in the tail of the buzzer makes cable connections easy and storage convenient. Cables themselves are made with factory molded RCA phono plugs assuring maximum durability. Please note that these buzzers require our interface box for connection to your computer. Specify 10' or 25' wires by using the pull-down selector.
PowerGrip buzzers are also available in a wireless version

10-Player USB Interface Box is for use with both our PowerGrip handheld and Big Daddy tabletop wired buzzer models. Standard configuration is for buzzer numbers 1-10. This interface box is also available four additional configurations. Buzzer numbers 11-20, 21-30, 31-40 and 41-50. For anything other than numbers 1-10, use the Special Instructions button to tell us what numbers you need.
Add Special Instruction to your order